Daily Archives:
May 13, 2011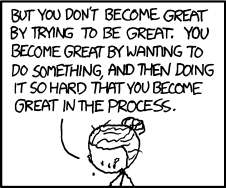 Full XKCD comic here.
Excerpts from Mike Rowe's Testimony Before the U.S. Senate Committee on Commerce, Science and Transportation
I believe we need a national PR Campaign for Skilled Labor. A big one. Something that addresses the widening skills gap head on, and reconnects the country with the most important part of our workforce.

Right now, American manufacturing is struggling to fill 200,000 vacant positions. There are 450,000 openings in trades, transportation and utilities. The skills gap is real, and it's getting wider …

In high schools, the vocational arts have all but vanished. We've elevated the importance of "higher education" to such a lofty perch that all other forms of knowledge are now labeled "alternative." Millions of parents and kids see apprenticeships and on-the-job-training opportunities as "vocational consolation prizes," best suited for those not cut out for a four-year degree. And still, we talk about millions of "shovel ready" jobs for a society that doesn't encourage people to pick up a shovel …

In a hundred different ways, we have slowly marginalized an entire category of critical professions, reshaping our expectations of a "good job" into something that no longer looks like work. A few years from now, an hour with a good plumber – if you can find one – is going to cost more than an hour with a good psychiatrist. At which point we'll all be in need of both …

The skills gap is a reflection of what we value. To close the gap, we need to change the way the country feels about work.
It's worth reading the entire speech here.